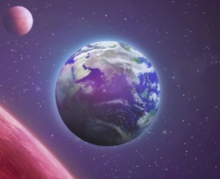 Earth is the adopted home world of Iris, and Aunt Ellen and the home world of Nathaniel, Missy Robins and the humans.
Overview
In science
Earth is the third planet from the sun and is located in the solar system. It is the largest of the rocky planets and of all is the fifth largest. The only one where life exists. The Earth has a moon.
Locations
Series
Trivia
This is the first planet to be shown in the series.
Lolirock's Earth is not the same Earth as in reality from geographical view.