LoliRock (working title known as Star Princess) is a French animated television series produced by Marathon Media and co-produced by Zodiak Kids in association with Disney Channel France. It is currently being broadcasted on Disney Channel in other countries. It started premiering in September 2014 (October in France). Season 1 and 2 will have 26 episodes.
Plot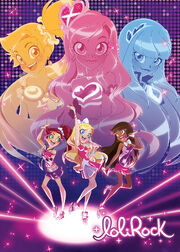 The action of the show is set in a kingdom called Ephedia, currently controlled by Gramorr. In the past, it was controlled by the king and queen ,who are actually the parents of the main character (Iris), and who lost the throne when the evil sorcerer Gramorr took over. However, when he tries seizing the Queen's Crown, he was trapped by magic in the throne room, and the Crown protected itself in a crystal pillar. Worse for Gramorr : the source of the crown's power, the "Oracle Gem", scattered and hit on earth... Now, Gramorr seeks the Gems to break free of his prison and finish his conquest of Ephedia... The rulers have a daughter named Iris (who is the main character), who after her disappearance,she was adopted and being cared for by her aunt, on Earth.
A few years after the conquest, Iris is already a dreamy teenager with a beautiful voice and attends high school. Iris's life changes dramatically when she discovers that girl band LoliRock is auditioning for a new lead singer. She then decided she should participate in the audition. As soon as she starts singing, she is surrounded by the glow of a thousand magical lights! Little did she know that the stars of LoliRock, Talia and Auriana, were searching for the ultimate princess who was missing for the group, which came to be the Iris itself. The girl then joins the group as a vocalist, and discovers that she is princess of a kingdom called Ephedia. Besides busy touring, they also have to save the world from the forces of evil Gramorr, trying to gather the gems that should be placed in the crown of Ephedia, restoring the kingdom to its original rulers.
See more at: http://www.marathon-media.fr/lolirock-2-2/#sthash.Oh9f8PHa.dpuf
Also at : http://teamlolirock.tumblr.com/post/124071399250/interview-with-writer-madellaine-paxson-behind
Characters
LoliRock
Enemy
Others
Songs
Trivia
References